Spicy Tuscan Tuna with Sautéed Kale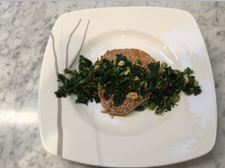 Recipe Date:
November 11, 2015
Measurements:
Imperial (US)
Ingredients
4 fresh tuna steaks
4 tbsps Sriracha hot sauce
2 tbsps sesame seeds
1/2 cup chopped castelvetrano olives
2 cloves of garlic
2 tbsps capers
2 cups chopped kale
1/4 cup chopped almonds
1/4 tsp sea salt
Directions
Coat the bottom of your sauté pan with olive oil. Place the tuna steaks in the pan and sear them on both sides, about 3 minutes on each side, longer for thicker pieces. Add the sriracha hot sauce on both sides, and then cover them with the sesame seeds. Add your garlic, chopped olives, and capers. In a separate pan, add about 2 tbs of olive oil, and put in your kale. Add your sea salt to the mix and stir well. When the kale is wilted, add your chopped almonds and stir well again until the ingredients are evenly distributed.