Filet Mignon with Green Beans Almondine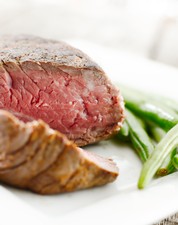 Recipe Date:
April 9, 2015
Measurements:
Imperial (US)
Ingredients
4 filets of beef
herbes de Provence
smoked sea salt
1 lb fresh green beans
1 tsp grated blood orange rind
1/4 cup chopped almonds
1 tbsp butter
Directions
Spray olive oil on a grill pan, or well oil your grill, set the temperature on high and let it get very hot. Rub the herbes de provence and smoked sea salt onto the filets. Place filets on grill for 4 - 5 minutes each side until they have a nice grill line on both sides. If you are using an oven, place the meat on broil for an additional 5-15 minutes based on thickness of filets and desired temperature. If on the grill, lower the heat to medium and continue to cook on the grill until meat is the desired temperature.
Place your butter in the pan and set the heat to high. Place your chopped almonds in the melted butter to toast them. Then put your green beans in the pan and stir them well, making sure the butter completely coats them. Then let them cook for 2-3 minutes, stirring well. Then add your zest. Stir for an additional 2 minutes, then serve.
Enjoy more original recipes created by Wine Society member Aliya Pasik, at www.TrinitasCellars.com/recipes