Winter Wonderland 2023
Zinfandel & Petite Sirah From Sandy Lane Vineyard With Gift Box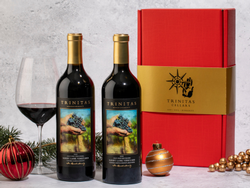 2020 Sandy Lane Vineyard Red Blend and 2020 Sandy Lane Vineyard Zinfandel. These decadent reds will warm their table with the holiday spirit! Both are made from the ancient vines found in the Sandy Lane Vineyard, and offer up incredible complexity and deliciousness. Usually, the Zinfandel is a Wine Society only item, but non-members can purchase it within this bundle.
2020 Sandy Lane Vineyard Red Blend
"A deep, dark color, powerful black fruits and vivid smoky, oaky, peppery accents give this blend of California heritage grape varieties a big impact. A full body and firm tannins bolster blackberries, dark chocolate, tobacco and black cherries on the palate, leading to a lingering finish." – 94 points, Jim Gordon, Wine Enthusiast
2020 Sandy Lane Vineyard Zinfandel
The 2020 vintage was so special for this storied site that we decided to bottle 3 separate Sandy Lane Vineyard wines. The first being a multi-varietal blend, and the second and third being single varietal bottlings of Zinfandel and Petite Sirah.
This Zinfandel is a special wine. It overflows with endless amounts of wild berry fruit that is wrapped in a velvet like texture. Lovely savory notes of spice and earth echo throughout the persistent finish. This is incredibly delicious Zinfandel that showcases the amazing characteristics of this ancient vineyard.