Napa Icons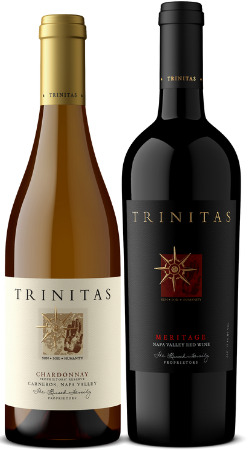 5+ Guests
2016 Chardonnay, Carneros
Sweet aromas of lemon curd, dandelion, beeswax, honey, and vanilla waft from this golden colored beauty of a wine. The palate follows in tow, with intense flavors of Meyer lemon and honeycomb, which are accompanied by an incredibly satiny texture that is as smooth as can be. A solid core of acid keeps this focused despite its terrific heft, and drives this to a persistent finish of toasted vanilla. It's a wonderful combination of intense fruit, texture, and energy.
2014 Mertiage, Napa Valley
The 2014 Meritage simmers from the glass with a harmonious bouquet of mulberry, black cherry, clove, and toasted graham cracker. The mouthwatering palate fans out for almost a minute with a kaleidoscope of rich blackberry, plum, blueberry, and raspberry that is lifted by refreshing acidity. The ripe berry medley trails off into a savory finish of tobacco and black licorice. This is a shining example of the range of flavors that can be achieved in a blend. It checks all the boxes, and everyone will find it hard to resist. 34% Cabernet Sauvignon, 20% Mataro, 19% Merlot,15% Cabernet Franc, 12% Petit Verdot.
Have a question about how our Private Virtual Tastings work? Please contact our Certified Sommelier Sean Haarberg.