Truffle Shuffle Risotto Only
Risotto Kit Only, Serves 2, No Wine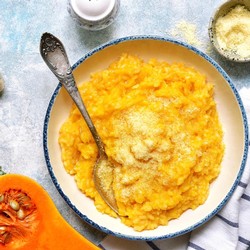 Must be ordered by November 7th
Risotto kits ship at no additional charge and will arrive the week of the event.
Truffle Shuffle will send you the Zoom the week of the event.
This event will take place on November 20th, at 4PM Pacific time.
Learn how to make world class Risotto from a Truffle Shuffle professional Chef during our very own interactive Trinitas Cellars virtual cooking class and tasting! The founders all met while working together at The French Laundry, they have built an exceptional cooking program, and we have paired two of our acclaimed wines for you to enjoy during this renown course.
This item includes the Truffle Shuffle Risotto kit without any wine. The risotto kit includes everything you need to craft your very own delicious meal. Your food will be delivered the week of the event. There will be some items you will need to keep refrigerated until the class begins.
The week of the event, watch for an email from Truffle Shuffle that will include the Zoom link. Click here to learn more about this delcious experience.