Truffle Shuffle Mac and Cheese Kit
Mac and Cheese Kit With 2016 Chardonnay and 2014 Merlot, Serves 2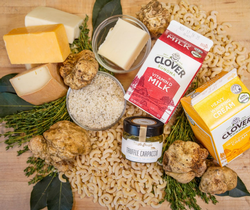 Kits must be ordered by May 16th
*Mac and Cheese kits ship separately at no additional charge and will arrive 2-5 days prior to the event.
*This item is excluded from limited time promotions.
This event will take place on Thursday, May 27th, at 4PM Pacific time. Learn how to make world class mac and cheese from a Truffle Shuffle professional Chef during our very own interactive Trinitas Cellars virtual cooking class and tasting! The founders all met while working together at The French Laundry, they have built an exceptional cooking program, and we have paired two of our acclaimed wines for you to enjoy during this renown course.
This Truffle Shuffle Tasting Kit includes two wines, our 2016 Chardonnay and 2014 Merlot, as well as a complete Truffle Shuffle Mac and Cheese kit. The Truffle Shuffle kit includes everything you need to craft your very own delicious meal. Cheese, milk, butter, bay leaf, garlic, truffle carpaccio, and truffle salt are all included.
Click here to learn more about this delcious experience.