The Holy Spirit 2023
Two Popes Red Blend, Cabernet Francis & Gift Box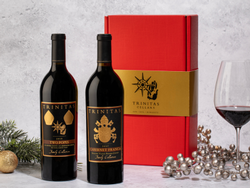 A two-bottle set of our 2019 Two Popes Red Blend and 2017 Cabernet Francis. Bless their home for the holidays with the wines made in honor of his holiness!
2019 Two Popes Red Blend
The 2019 Two Popes is a compelling and distinctive blend of Cabernet Franc and Zinfandel. Ripe and decadent, this wine simmers with aromatics of plum, forest floor, dark chocolate, and vanilla. The palate is overflowing with flavors of strawberry, elderberry, and plums that are accented by notes of allspice and toasty oak. Everything is balanced by tangy acidity and gentle tannins. This powerful and concentrated red blend is already drinking marvelously, and it will be difficult to keep in the cellar!
2016 Pelkan Ranch Vineyard Cabernet Franc, Cabernet Francis
Our 2016 Cabernet Francis was awarded a gold medal, and with just one taste you can see why! The beautiful bouquet opens with plum, elderberry, fleur de sel, clove, and vanilla. The palate is brimming with ripe plum, elderberry, toasty oak notes, and chocolate, that are accented by a light note of fresh herbs. This large-scale Cabernet Franc remains elegant thanks to its balanced acid and great tannin structure. It is a total joy to drink now and will continue to develop in the cellar for years to come.