The Holy Spirit 2022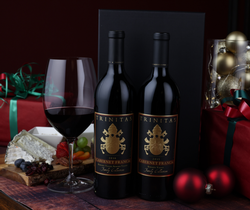 A two-bottle set of our 2015 and 2016 Cabernet Francis. Bless their home for the holidays with the wine made in honor of his holiness!
2015 Pelkan Ranch Cabernet Franc, Cabernet Francis
This behemoth opens with an abundance of ripe fruit aromas. Notes of blackberry and plum are melded together with clove and jasmine tea to make a captivating bouquet. The dark purple palate gushes with flavors of blackberry, elderberry, plum, cardamom, vanilla, and berry blossoms that glide into a persistent finish marked by notes of graham cracker. This is the most dense and juicy vintage we have made and is Cabernet Franc at its most decadent!
2016 Pelkan Ranch Cabernet Franc, Cabernet Francis
Our 2016 Cabernet Francis was awarded a gold medal, and with just one taste you can see why! The beautiful bouquet opens with plum, elderberry, fleur de sel, clove, and vanilla. The palate is brimming with ripe plum, elderberry, toasty oak notes, and chocolate, that are accented by a light note of fresh herbs. This large-scale Cabernet Franc remains elegant thanks to its balanced acid and great tannin structure. It is a total joy to drink now and will continue to develop in the cellar for years to come.