Snake River Farms Virtual Tasting Kit - 6 6oz Manhattan Filets
August 21st, 5:00pm Pacific Time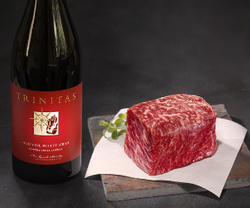 6 Manhattan Filets, (2) 2015 Petit Verdot, and (2) 2015 Petite Sirah are included.
*Please note kits for this experience must be ordered by August 16th. Steaks will ship separately and will arrive about 2 days before the event. Each kit will include printed prep instructions that can also be viewed here.
**Wine Society discount only applies to the value of the wine within the kit. We cannot discount the steak beyond it's currently discounted price. The Wine Society price for this kit is $400.
***Add this kit and any 5 other items to your cart for 50% off FedEx Cold 2-Day through August 16th. Add this kit and any 11 other items to your cart for one cent FedEx Cold 2-Day.
Join our Proprietor, Garrett Busch, for an unforgettable virtual tasting experience that pairs two of our acclaimed red wines with one of the greatest steaks you will ever find. The Manhattan Filet from Snake River Farms. Select your kit, mark your calendar, and get ready to fire up the grill in late August!
Meet the Gold Grade Manhattan, the finest New York steak available from Snake River Farms. Gold Grade beef has an incredible amount of marbling so these New York filets are exceptionally juicy and full of flavor. Gold Grade maintains the traditional flavor American palates love, combined with the tender, buttery essence of Japanese Wagyu beef. The Manhattan New York filet is cut thick and has the distinctive texture of a New York strip with the rich flavor unique to American Wagyu beef.
Over the years, Garrett has proudly perfected his very own steak recipe that has won over our Trinitas family. During the tasting he will show you how he loves to prepare his Manhattan Filet. You can plan to cook along with him, or cook ahead of time so you can sit back and enjoy the demonstration. Either way, please be sure to read the prep instructions. If you plan to cook ahead of time, here is a great video to get you started.
Click here to learn more about the event and here to see the other kits. Click here to read about our 2015 Petit Verdot and here for our 2015 Petite Sirah. The Petit Verdot was awarded a Silver Medal at the Sunset Magazine International Wine Competition, and the Petite Sirah, 93 points and Editor's Choice from Wine Enthusiast.