Season's Spirit 2022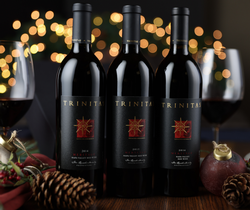 2014 to 2016 Meritage vertical. Give them a taste of the seasons! Nothing gives wine enthusiasts a better taste of each year's unique spirit than enjoying the same wine from different vintages. This selection of Meritage will shine the holiday light on the distinct personalities of the 2014, 2015, and 2016 vintages.
2014 Meritage
The 2014 Meritage simmers from the glass with a harmonious bouquet of mulberry, black cherry, clove, and toasted graham cracker. The mouthwatering palate fans out for almost a minute with a kaleidoscope of rich blackberry, plum, blueberry, and raspberry that is lifted by refreshing acidity. The ripe berry medley trails off into a savory finish of tobacco and black licorice. This is a shining example of the range of flavors that can be achieved in a blend. It checks all the boxes, and everyone will find it hard to resist.
2015 Meritage
This rich and approachable rendition of Meritage puts the overt characteristics of the 2015 vintage on full display. It opens with a sweet bouquet of plum, blueberry, graphite, and cedar. The silky palate gushes with flavors of ripe blueberry and black currant that seamlessly transition into a savory finish of toasted vanilla graham cracker. Despite its decadence, this wine stays fresh, and is incredibly easy to drink. This is ready to enjoy now!
2016 Meritage
The 2016 Meritage puts the elegant side of Napa on full display. Dried flowers, menthol, brown sugar and cherry fuse together to form a distinctly savory aromatic bouquet. The palate is a satisfying combination of earth and fruit flavors, with dried sage, cinnamon, and pomegranate rounding out bright and energetic acid. This is a very fresh wine. Its verve and wide range of flavors make it an excellent pairing selection for special meals!