'Meet the Maker' Riedel Tasting Glasses - One Set
'Meet the Maker' - August 14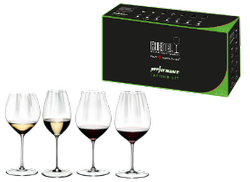 *This kit contains one 4 piece Riedel Performance Glass Set (Sauvignon Banc, Chardonnay, Cabernet, and Pinot glasses). No wine is included in this set.
**Please note that given the warm weather all orders that include wine must be cold shipped. Fedex Cold 2-Day Shipping will cost on average, between $50-$65 for this kit. Add this kit and any 5 other items (single bottles from our current releases count as an item) to your cart for 50% off FedEx Cold 2-Day. Add this kit and any 11 other items to your cart for one cent FedEx Cold 2-Day.
We've teamed up with Riedel and Elissa to bring you this unforgettable and informative virtual tasting, where you'll not only get a chance to learn about stemware from a seasoned expert, but also acquire a professional Riedel wine glass set for an extraordinary value. This is your chance to put your taste buds to the test to learn firsthand just how much stemware matters.
This tasting will be led by our Proprietor, Garrett Busch, along with Riedel Ambassador, Susan Durbrow. Garrett will educate guests about our featured wines, as Susan explains how each glass uniquely accentuates their aromatics and flavor.
Click here to read the prep intrsuctions.
2016 Chardonnay, Carneros
Sweet aromas of lemon curd, dandelion, beeswax, honey, and vanilla waft from this golden colored beauty of a wine. The palate follows in tow, with intense flavors of Meyer lemon and honeycomb, which are accompanied by an incredibly satiny texture that is as smooth as can be. A solid core of acid keeps this focused despite its terrific heft, and drives this to a persistent finish of toasted vanilla. It's a wonderful combination of intense fruit, texture, and energy.
2015 Cabernet Sauvignon, Napa Valley
93 Points James Suckling "Dark, toasted spices and rich, ripe blackberry and plum aromas lead to a palate that has a very plush array of ripe plums and berries, leading to a saturated, juicy and ripe finish. Silky. Drink or hold." –12/2016