Napa Icons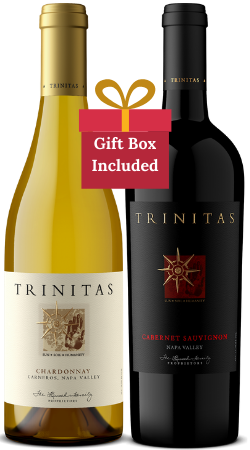 2016 Chardonnay Carneros and 2015 Cabernet Sauvignon, packaged in our artful gift box. Give the gift of Napa icons. A rich and creamy Carneros Chardonnay paired with a big and bold Napa Valley Cabernet Sauvignon is sure to fill them with cheer!
2016 Chardonnay
Sweet aromas of lemon curd, dandelion, beeswax, honey, and vanilla waft from this golden colored beauty of a wine. The palate follows in tow, with intense flavors of Meyer lemon and honeycomb, which are accompanied by an incredibly satiny texture that is as smooth as can be. A solid core of acid keeps this focused despite its terrific heft, and drives this to a persistent finish of toasted vanilla. It's a wonderful combination of intense fruit, texture, and energy.
2015 Cabernet Sauvignon
93 Points - James Suckling
This wine is incredibly rich in flavor but surprisingly elegant and velvety in structure. Chocolate covered black cherries and blackberries are present throughout the core. Hints of molasses and barrel spices round out the silky finish of this rich Cabernet Sauvignon.