Holiday Blessings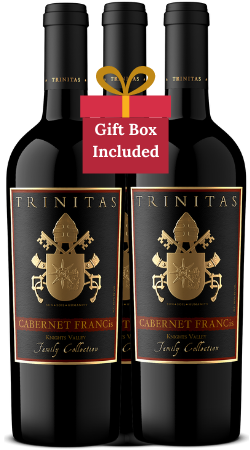 A 6 bottle vertical of three exceptional vintages of our Cabernet Francis. This set contains 2 bottles of the 2014, 2015, and 2016 Cabernet Francis, along with a Trinitas Cellars Wood Case. Bless their home for the holidays with the wine made in honor of his holiness! Our 2016 Cabernet Francis won a Gold Medal from the SF Chronicle and has yet to officially be released. Which makes this an extra special gift for the wine enthusiasts!
2014 Pelkan Ranch Cabernet Franc, Cabernet Francis
The 2014 Cabernet Francis begins with aromas of cassis, star of anise, and ground nutmeg, then moves into notes of mocha, ground cacao powder, and beautiful ripe cherries. The palate starts with rich flavors of cherries jubilee, malted chocolate and barrel notes of crème brûlée and barrel spices.
2015 Pelkan Ranch Cabernet Franc, Cabernet Francis
This behemoth opens with an abundance of ripe fruit aromas. Notes of blackberry and plum are melded together with clove and jasmine tea to make a captivating bouquet. The dark purple palate gushes with flavors of blackberry, elderberry, plum, cardamom, vanilla, and berry blossoms that glide into a persistent finish marked by notes of graham cracker. This is the most dense and juicy vintage we have made, and is Cabernet Franc at its most decadent!
2016 Pelkan Ranch Cabernet Franc, Cabernet Francis