Holiday Blessings 2023
A Collection of 3 Faith Based Wines With Gift Box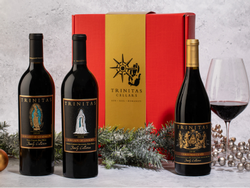 A 3 bottle set of our faith based wines: Cabernet Francis, Our Lady of Guadalupe, and Two Popes. Bless their home for the holidays!
2015 Our Lady of Guadalupe Red Wine
Trinitas Cellars was born in 2002 from the devotion and faith of the Busch family. Each of our wines are crafted to express the trinity of winemaking: sun, soil, and humanity. Our faith-based series is near and dear to us and many of our loyal followers. We are so excited to release the newest wine in the series in honor of Our Lady of Guadalupe. In addition to being one of the most empowering and enduring symbols of faith the world over, our small, family-run winery has a special connection to this patron saint. Both Trinitas founder Steph Busch, and General Manager, Sonyia Grabski, were born on Our Lady of Guadalupe Day, December 12th.We are only producing 250 cases of this limited gem. Like all Trinitas reds, this wine is bold, approachable, and brimming with the signature purity of fruit Napa is known for. We hope that this bottle's artwork and heavenly juice bless you and the loved ones you share it with.
2016 Our Lady of Lourdes, Reserve Cabernet Sauvignon, Napa Valley
This incredible wine is our first Reserve Napa Valley Cabernet Sauvignon. We never planned on releasing a Reserve Cabernet Sauvignon, but the 2016 vintage was so exceptional, that if ever there was a vintage deserving of it, this is the one. The growing season was ideal for Napa, and it produced wines of tremendous intensity and complexity that will stand the test of time. Given the exquisite quality, we decided to hold back a special lot for extended barrel aging to fully express the vintage's potential. While most of our red wines spend 1 to 2 years in barrel, this divine selection spent a total of 4 years in French oak.
2016 Christmas Cuvee
"This concentrated, medium-bodied blend of Carignan, Zinfandel, Petite Sirah and Mataro (Mourvèdre) offers floral aromas and fresh black fruit flavors without too much tannin, so it's well-balanced and reveals something more in each sip, from black cherry to blueberry to hints of pine and violet." - Jim Gordon
*Christmas Cuvee is a limited edition bottling of our 2016 Old Vine Cuvée.*