Holiday Blessings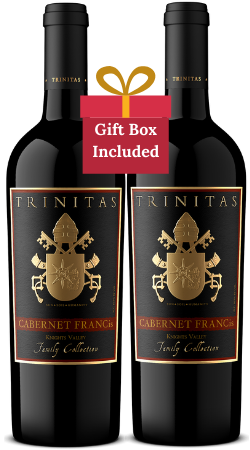 2014 and 2015 Cabernet Francis, 6 Pack Horizontal with Trinitas Cellars Wood Case. Bless their home for the holidays with the wine made in honor of his holiness! This 6 bottle set contains 3 bottles of our 2014 Cabernet Francis and 3 bottles of our 2015 Cabernet Francis.
2014 Pelkan Ranch, Cabernet Francis
The 2014 CABERNET FRANCis begins with aromas of cassis, star of anise, and ground nutmeg, then moves into notes of mocha, ground cacao powder, and beautiful ripe cherries. The palate starts with rich flavors of cherries jubilee, malted chocolate and barrel notes of crème brûlée and barrel spices.