Grill Master 3-Pack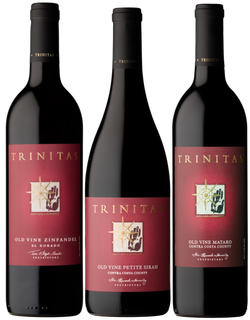 2015 ZINFANDEL, EL DORADO - This glass staining and inky red wine is loaded with rugged personality. The rustic nose is full of freshly cut cigar, worn leather, and shrub spices. The mouthcoating palate explodes with flavors of dried currant, plum, and sour cherry.
2013 PETITE SIRAH OLD VINE, CONTRA COSTA - This is ink in a bottle! The color is highly extracted from the 100+ year old vines. Too many people pass by the Petite Sirah in favor of Cabernet Sauvignon. This wine represents a excellent value for a full-bodied wine. The nose offers dense aromatics of fruitcake, brier, vanilla, baking spices, and strawberry. The palate is dominated by jammy blackberry, with notes of espresso and spice. The palate is structured with complex layers of uber ripe dark fruit, dried cherry, persistent oak and a vanilla tinged finish. Aged exclusively in American oak barrels.
2014 MATARO OLD VINE, CONTRA COSTA - The dark purple 2014 Old Vine Mataro jumps into the air with a savory and fruity bouquet that's chock full of anise and ripe fig. The richness continues with flavors of almond toffee, brandied cherry, and berry glaze. This will pair well with all sorts of delicious sweet treats.