Gourmet Wine Chips Only
3 oz. Manchego, 3 oz. Asiago, & 1 oz Dry Aged Ribeye Wine Chips.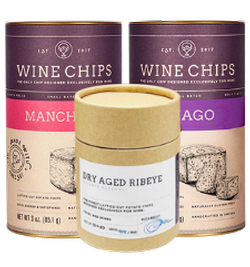 *Please note kits for this experience must be ordered by January 17th at midnight. Wine Chips will ship separately at no additional cost and will arrive a couple days prior to the event.
Join our Proprietor, Garrett Busch, for an unforgettable virtual tasting experience that pairs two of our fan favorite wines with three of the greatest gourmet potato chips ever made: Wine Chips Manchego, Asiago, and Dry Aged Ribeye chips. These divine chips are handcrafted in Southern California, are made with real cheese, and are specifically made to be paired with Rose and Zinfandel. This tasting is sure to please!
This item only contains the Wine Chips. Click here for the complete tasting kit.
Don't miss this chance to socialize in place with your Trinitas family and savor some of the best that California has to offer!