Gobble-icous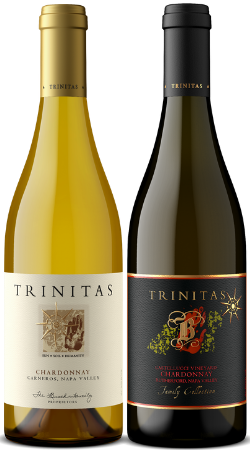 2016 Chardonnay Carneros and 2017 O'Neill Vineyard Pinot Noir. Nothing pairs better with a turkey meal than Carneros Chardonnay and Carneros Pinot Noir. This versatile duo will keep the family smiling all the way through dessert, from savory to sweet! Gobble gobble!

2016 Chardonnay
Sweet aromas of lemon curd, dandelion, beeswax, honey, and vanilla waft from this golden colored beauty of a wine. The palate follows in tow, with intense flavors of Meyer lemon and honeycomb, which are accompanied by an incredibly satiny texture that is as smooth as can be. A solid core of acid keeps this focused despite its terrific heft, and drives this to a persistent finish of toasted vanilla. It's a wonderful combination of intense fruit, texture, and energy.
2017 O'Neill Vineyard Pinot Noir
As the name suggests, this Carneros vineyard belongs to the family is planted on 2.56 acres in the western hills of Napa. It sits between 50 to 100 feet above sea level and is regularly shaded by the marine layer from the San Francisco Bay. Its coastal influence allows us to craft a beautiful, elegant, and balanced Pinot Noir that doesn't sacrifice flavor. Aromatics of fresh red cherries and cranberries are complimented by dried flowers and sun baked earth. The refreshing palate is driven by bright pomegranate, red berry, and sandalwood flavors that are held together by lively acidity. It stays fresh and graceful on the palate despite its ripeness.