Gobble-icous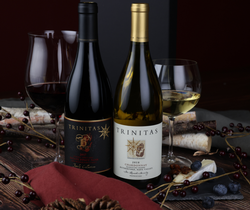 2018 Proprietors' Reserve Chardonnay Rutherford and 2017 O'Neill Vineyard Pinot Noir. Nothing pairs better with a turkey meal than Carneros Chardonnay and Carneros Pinot Noir. This versatile duo will keep the family smiling all the way through dessert, from savory to sweet! Gobble gobble!
2018 Proprietors' Reserve Chardonnay, Rutherford
This rich and powerful Chardonnay opens with a bouquet of white flowers, orange blossom, macadamia nut, ripe lemon, and clove. The silky and concentrated palate is brimming with flavors lemon, tangerine, clove, vanilla, butterscotch, and liquid flowers. Everything is held together with fresh acidity that crescendos on the persistent finish.
2017 O'Neill Vineyard Pinot Noir
As the name suggests, this Carneros vineyard belongs to the family is planted on 2.56 acres in the western hills of Napa. It sits between 50 to 100 feet above sea level and is regularly shaded by the marine layer from the San Francisco Bay. Its coastal influence allows us to craft a beautiful, elegant, and balanced Pinot Noir that doesn't sacrifice flavor. Aromatics of fresh red cherries and cranberries are complimented by dried flowers and sun baked earth. The refreshing palate is driven by bright pomegranate, red berry, and sandalwood flavors that are held together by lively acidity. It stays fresh and graceful on the palate despite its ripeness.