Gobble-icous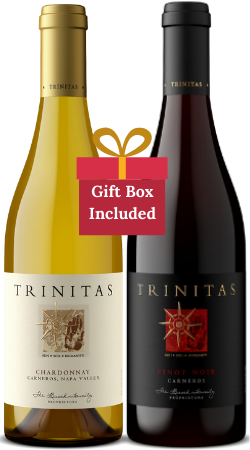 2016 Chardonnay Carneros and 2016 Pinot Noir, packaged in our artful gift box. Nothing pairs better with a turkey meal than Carneros Chardonnay and Carneros Pinot Noir. This versatile duo will keep the family smiling all the way through dessert, from savory to sweet! Gobble gobble!

2016 Chardonnay
Sweet aromas of lemon curd, dandelion, beeswax, honey, and vanilla waft from this golden colored beauty of a wine. The palate follows in tow, with intense flavors of Meyer lemon and honeycomb, which are accompanied by an incredibly satiny texture that is as smooth as can be. A solid core of acid keeps this focused despite its terrific heft, and drives this to a persistent finish of toasted vanilla. It's a wonderful combination of intense fruit, texture, and energy.
2016 Pinot Noir
This is textbook Napa Pinot Noir. The aromatics are full of enticing aromas of cherries, cranberries, wild flowers, and vanilla. Its smooth as velvet texture glides across the palate and treats you to flavors of ripe black cherry and strawberry, that are followed by notes of carmalized vanilla. This is too easy to drink!