For the Connoisseur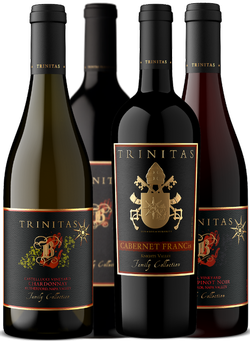 4+ Guests
2015 Chardonnay Castellucci Vineyard, Rutherford
2017 Estate Pinot Noir, Carneros
Aromatics of fresh red cherries and cranberries are complimented by dried flowers and sun baked earth. The refreshing palate is driven by bright pomegranate, red berry, and sandalwood flavors that are held together by lively acidity. It stays fresh and graceful on the palate despite its ripeness. This is a red wine that'll delight in any season and is a perfect pairing for warmer months!
2014 Martin Vineyard Cabernet Sauvignon, Coombsville
Now this is a Cabernet Sauvignon that shows off the personality of its Coombsville vineyard site. It opens with aromas of black cherry, sweet cranberry, toasted barrel spices, pencil shavings and flint. Flavors of cherry, red plam, clove, graphit, and smoke glide across the plate in weightless fashion. As the finish goes on and one, the wine's slightly grippy tannins are finally revealed. It's a mesmerizing combination of rugged flavor and civilized structure.
2014 Cabernet Franc, Cabernet Francis, Knights Valley
The 2014 CABERNET FRANCis begins with aromas of cassis, star of anise, and ground nutmeg, then moves into notes of mocha, ground cacao powder, and beautiful ripe cherries. The palate starts with rich flavors of cherries jubilee, malted chocolate and barrel notes of crème brûlée and barrel spices. The Cabernet Franc is absolutely mouth coating with powdery smooth tannins that finish on the palate with just enough grip.
Have a question about how our Private Virtual Tastings work? Please contact our Certified Sommelier Sean Haarberg.