For Evenings on the Patio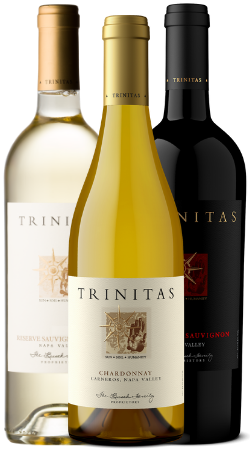 Minimum guest or bottle counts apply. Have a question about how our Private Virtual Tastings work? Please contact our Certified Sommelier Sean Haarberg.
2015 Reserve Sauvignon Blanc, Napa Valley
This delightful white wafts from the glass with an enticing bouquet of lemon oil, candied kiwi, and baking spice. The weighty palate completely coats the mouth with its rich flavors of candied citrus, dandelion greens, and clove.
2016 Chardonnay, Carneros
Sweet aromas of lemon curd, dandelion, beeswax, honey, and vanilla waft from this golden colored beauty of a wine. The palate follows in tow, with intense flavors of Meyer lemon and honeycomb, which are accompanied by an incredibly satiny texture that is as smooth as can be. A solid core of acid keeps this focused despite its terrific heft, and drives this to a persistent finish of toasted vanilla. It's a wonderful combination of intense fruit, texture, and energy.
2015 Cabernet Sauvignon, Napa Valley
Rich red cherry is abundant on the nose accompanied by notes of plum, blackberry compote, muddled blueberries, cocoa, and a hint of baking spices. This wine is incredibly rich in flavor but surprisingly elegant and velvety in structure. Chocolate covered black cherries and blackberries are present throughout the core. Hints of molasses and barrel spices round out the silky finish of this rich Cabernet Sauvignon.