Virtual Easter Tasting Kit
2018 Two Popes & 2015 Castellucci Chardonnay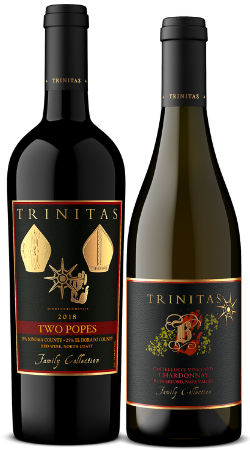 Two Popes will be a Wine Society exclusive wine beginning April 1st, 2021
*Must be ordered by 3/21 at midnight to arrive on time via ground shipping
Join our Proprietor, Garrett Busch for an unforgettable Easter themed virtual tasting that features our inaugural release of Two Popes! Trinitas Two Popes is a special blend celebrating something that hasn't happened in over half a millennia – two living Bishops of Rome, the head of Catholic Church. Inspired by the Busch family, the blend refers to Pope Francis and Pope Emeritus Benedict XVI.
The tasting kit contains one bottle of our 2018 Two Popes, and 2015 Castellucci Vineyard Chardonnay. Two Popes contains 75% Cabernet Franc from the Pelkan Ranch Vineyard in Knights Valley, and 25% Zinfandel from the Biama Vineyard in El Dorado. These varietals and vineyard sites were used to create our Trinitas wines made in honor of each Pope's respective elections – Cabernet FRANCis in 2013 and ratZINger, referring to Benedict's birth name, in 2005.
Trinitas founders Tim and Steph Busch have personally presented both Popes with their honorary wines. They look forward to sharing this latest homage to the Holy Fathers at an upcoming papal audience. Here's hoping Pope Francis and Pope Benedict think Two Popes is divine!
With less than 80 cases available, the 2018 Two Popes this is a very limited production wine, and will only be available to all of our customers through March 31st. Beginning April 1st, the wine will be reserved exclusively for our Wine Society members. Don't miss this chance to celebrate Easter with your Trinitas family and try this sacred new wine!
Click here to learn more about the event.
2018 Two Popes, North Coast, Family Collection
Our inaugural release of Two Popes opens with powerful aromas of chocolate, nutmeg, ripe plum and sarsaparilla. The palate follows suit, with rich and concentrated flavors of ripe plum, blueberry, dark chocolate, vanilla, mocha, and pepper, that trail off into a very persistent finish marked by blackberry and graham cracker. Everything is lifted by fresh acidity and ripe tannins, that give the wine a charming and approachable spirit.
2015 Castellucci Vinayrd Cahrdonnay, Rutherford, Family Collection
The aromatics open with sweet and enticing notes of clove, lemon oil, vanilla, and citrus rind. On the palate, this wine is brimming with flavors of baked lemon, butterscotch, sea salt, caramel, Bosc pear, and baking spices that are supported by a refreshing line of acidity and gentle phenolic structure. Big, rich, and delicious sums up this luxurious Rutherford Chardonnay!