Easter Special - Trio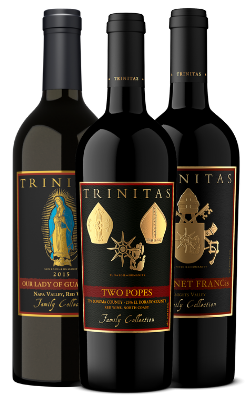 In honor of Easter, we are offering our digital subscribers a special opportunity to celebrate the joy of wine and faith. For 3 days only, you can purchase the 2019 Two Popes Red Blend as part of our Easter bundles. The 2019 Two Popes is traditionally only available to our Wine Society members, but in honor of Easter, we are making it available to all our patrons. Purchase your bundle today and prepare to wow your family this Easter!
2019 Two Popes, Red Blend, North Coast
The 2019 Two Popes is a compelling and distinctive blend of Cabernet Franc and Zinfandel. Ripe and decadent, this wine simmers with aromatics of plum, forest floor, dark chocolate, and vanilla. The palate is overflowing with flavors of strawberry, elderberry, and plums that are accented by notes of allspice and toasty oak. Everything is balanced by tangy acidity and gentle tannins. This powerful and concentrated red blend is already drinking marvelously, and it will be difficult to keep in the cellar!
2015 Our Lady of Guadalupe Red, Napa Valley
We are only producing 250 cases of this limited gem. Like all Trinitas reds, this wine is bold, approachable, and brimming with the signature purity of fruit Napa is known for. We hope that this bottle's artwork and heavenly juice bless you and the loved ones you share it with.
2016 Cabernet Francis, Knights Valley
Our 2016 Cabernet Francis was awarded a gold medal, and with just one taste you can see why! The beautiful bouquet opens with plum, elderberry, fleur de sel, clove, and vanilla. The palate is brimming with ripe plum, elderberry, toasty oak notes, and chocolate, that are accented by a light note of fresh herbs. This large scaled Cabernet Franc remains elegant thanks to its balanced acid and great tannin structure. It is a total joy to drink now and will continue to develop in the cellar for years to come.