Coravin Model Three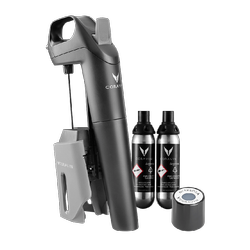 *This item is not eligible for any additional discounts.
**Please note Coravin orders ship separately.
Featuring a friendly and functional design, Model Three is perfect for everyday wine drinking. New and improved SmartClamps™ allow the System to go easy-on, easy-off any bottle. Simply insert, tip, and pour—then save the rest of the bottle for weeks, months, or even years! Includes 2 Coravin Pure Capsules and 1 Coravin Screw Cap.