Comfort and Joy 2023
Christmas Cuvee, Chocolate Caramels & Gift Box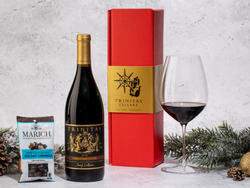 Our acclaimed Christmas Cuvee and Marich Dark Chocolate Sea Salt Caramels, packaged in a festive gift box. Gift them the comfort of gourmet caramels paired with the joy of award-winning Christmas wine.
*Christmas Cuvee is a limited edition bottling of our 2016 Old Vine Cuvée*
92 Points, Editor's Choice, Wine Enthusiast - "This concentrated, medium-bodied blend of Carignan, Zinfandel, Petite Sirah and Mataro (Mourvèdre) offers floral aromas and fresh black fruit flavors without too much tannin, so it's well-balanced and reveals something more in each sip, from black cherry to blueberry to hints of pine and violet." - Jim Gordon
92 Points, Wine and Spirits Magazine - Here's an old-school red, more gamey and earthy than sweet, with scents of ripe purple plums and tar, the flavors lasting with precision. It's a blend of carignane, petite sirah, zinfandel and mataro, a wine that could only be from California. Tastings editor Corey Warren described it as "prospector stuff—Gold Rush juice." —J.G.
93 Points, The Tasting Panel - "Sourced from Contra Costa and Mendocino Counties, this blend of 40% Carignane, 30% Petite Sirah, and 10% Mataro was aged in American oak. Huckleberry and spiced cedar offer a brushy interior. Tilled soil is apparent, in an old-world style. Fine acidity, a wash of coffee bean, blackberry, and strawberry meld into a plush middle and leave a tremendously memorable finish." - Meridith May