Chardonnay to the World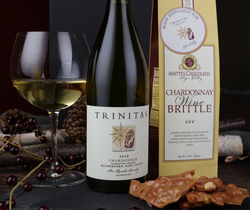 2018 Proprietors' Reserve Chardonnay Rutherford and Chardonnay Brittle, packaged in our artful gift box. So many will agree that Chardonnay is liquid joy. So why not give your friends and family another way to savor that joy, with Chardonnay brittle!
2018 Proprietors' Reserve Chardonnay, Rutherford
This rich and powerful Chardonnay opens with a bouquet of white flowers, orange blossom, macadamia nut, ripe lemon, and clove. The silky and concentrated palate is brimming with flavors lemon, tangerine, clove, vanilla, butterscotch, and liquid flowers. Everything is held together with fresh acidity that crescendos on the persistent finish.