Bundle of Joy 2022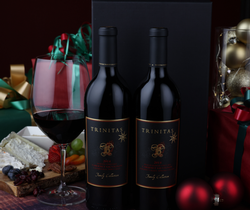 Our 2014 Martin and 2014 Pelkan Ranch Cabernet Sauvignons, packaged in our gift box.This handpicked pair of single vineyard Cabernet Sauvignon will make any wine enthusiast's spirit bright! These are some of the very best wines we've ever made and are delicious enough to make them believe in the magic of the holiday season!
2014 Martin Vineyard, Cabernet Sauvignon
Now this is a Cabernet Sauvignon that shows off the personality of its Coombsville vineyard site. It opens with aromas of black cherry, sweet cranberry, toasted barrel spices, pencil shavings and flint. Flavors of cherry, red plum, clove, graphite, and smoke glide across the palate in weightless fashion. As the finish goes on and on, the wine's slightly grippy tannins are finally revealed. It's a mesmerizing combination of rugged flavor and civilized structure. Drink up!
2014 Pelkan Ranch Vineyard, Cabernet Sauvignon
The nose is velvety with rich notes of cinnamon, anise, molasses, and blackberry jam. There are also hints of clove and just a pinch of black pepper. The palate is equally as silky and opens with delicate notes of cherry and ripe raspberry. The wine grows on the palate showing its breadth and beautiful core which leads into a rich blackberry compote finish, complemented but the soft, fine tannin structure.