Holiday Virtual Tasting Kit
2018 Busch Bubbles & 2016 Reserve Cabernet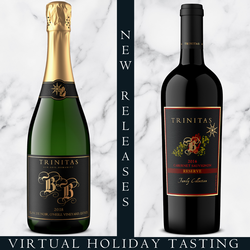 *Please note kits for this experience must be ordered by December 20th at Midnight. The event takes place at 5PM Pacific time on 12/30.
It is the holiday season and that means it is time to open our best, and this year, we have two brand new releases to savor! Join our Proprietor, Garrett Busch, for an unforgettable virtual tasting that will feature our 2018 Busch Bubbles and our 2016 Reserve Cabernet Sauvignon. This is the first sparkling wine we have crafted from our O'Neill Vineyard Pinot Noir, and the first Reserve Cabernet we have ever made. These two are not to be missed!
This kit includes one of each bottle:
2018 Busch Bubbles, Blanc de Noir, O'Neill Vineyard, Carneros, Napa Valley
The 2018 Busch Bubbles is a wonderfully elegant, energetic, and complex Blanc De Noir that beautifully expresses the cool climate of Carneros. It is made entirely from Pinot Noir grown at our O'Neill Estate Vineyard. It opens with a lovely bouquet of cherry blossom, brioche, oyster shells, and lime pith aromas. The complex and expressive palate fans out into layers of cranberry, lemon zest, sea salt, and hibiscus flavors that are emphatically accentuated by a lively core of mouthwatering acidity. Everything is seamlessly woven together with decadent bubbles and trail off into a delightfully refreshing and persistent finish of lime pith. This is a charming and delectable sparkling wine that expresses the character of Carneros and grace of Pinot Noir. We hope you find it as irresistible as we do!
2016 Reserve Cabernet Sauvignon, Napa Valley
This incredible wine is our first Reserve Napa Valley Cabernet Sauvignon. We never planned on releasing a Reserve Cabernet Sauvignon, but the 2016 vintage was so exceptional, that if ever there was a vintage deserving of it, this is the one. The growing season was ideal for Napa, and it produced wines of tremendous intensity and complexity that will stand the test of time. Given the exquisite quality, we decided to hold back a special lot for extended barrel aging to fully express the vintage's potential. While most of red wines spend 1 to 2 years in barrel, this divine selection spent a total of 4 years in French oak.
The 2016 Reserve Cabernet Sauvignon simmers from the glass with powerful aromas of plum, graphite, clove, vanilla, bittersweet cocoa, and mint. The generous palate completely gushes with decadent flavors of macerated red berries, ripe plum, bay leaf, vanilla, clove, cinnamon, graham, and star anise. The extended barrel aging has given this wine an extremely luscious texture, and while there is plenty of tannins, it is as smooth as can be. The mid palate fireworks transition to a minute-long finish framed by baking spices. This is so silky, so rich, and oh so delicious that you will have a tough time putting the bottle down.
Click here to learn more about the event.