Bright and Bubbly 2023
Bubbles, Candy & Gift Box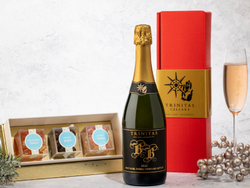 Our scrumptious single vineyard 2020 Busch Bubbles Brut Rose and Sugarfina Candy Set, packaged in a festive gift box. Gift them the sweet life this season! There is no better way for them to toast to the holidays, and this set is perfect for any occasion.
2020 Busch Bubbles Brut Rose, O'Neill Vineyard, Carneros, Napa Valley
The 2020 Brut Rose comes exclusively from O'Neill Vineyard Pinot Noir. We decided to make a Brut Rose from the site knowing how amazing the Blanc de Noir was in years past, and we wanted to retain more color and intensity in the bottling. The wine is very dry, less than 1 g/L of sugar which can be considered Ultra Brut, or Brut Natural. We wanted the sparkling to be especially fresh and clean to showcase the amazing site in Carneros.
The Methode Champenoise process took us more than 2 years to complete. The harvest date was in August 2020, before the fires, and we completed disgorging and final bottling in September 2022. Sur Lie time in bottle was just over 18 months.
Consistent pressure in bottle, the pale pink color reveals itself in the flute. We bottled the Brut Rose in green glass to be able to "bottle-age" for decades. Tiny bubbles form a light mousse that will evolve over hours. Slight brioche nose, but mostly fresh cucumber water and lemon zest dominate. Classy Methode Champenoise spritz, and very dry in long finish.