Baker's Delight 2022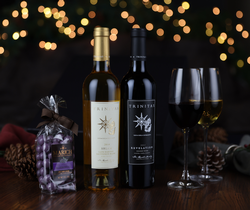 2013 Revelation, 2014 SBLAM, and dark chocolate covered blueberries, all packaged in our artful gift box. This pair of dessert wines is perfect for the loved one who enjoys holiday sweets. They are exceedingly delicious on their own and will also pair wonderfully with anything on the dessert table. Bring on the pie and cookies!

2013 Revelation
The 2013 Revelation is rich, the nose is juicy and smells like a basket of red fruit and fruit pie spices. Candied red apple covered in chocolate and caramel is a high note, followed by hints of blackberries, red licorice, and pomegranate. The Revelation is literally mouth coating, which contributes to the continually lingering cherry flavor of this wine.

2014 SBLAM Late Harvest Sauvignon Blanc
This late harvest wine bursts out of the glass with rich and sweet aromas of honeysuckle, melon, wildflower, and caramelized sugar. The soft and weighty palate gushes with dried apricot, ripe pineapple, and fresh quince flavors. All the sweetness is gracefully balanced by bright acidity that keeps the flavors moving forward to a delightfully fresh finish.