Aroma Cheer-apy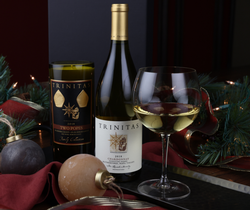 2018 Proprietors' Reserve Chardonnay Rutherford and Candle, packaged in our artful gift box. Fill their room with the light and aroma of the holiday spirit! Our unscented candle will create seasonal ambiance, while our Chardonnay treats them to aromas of joy. Candle bottle shell, varietal designation, and color will vary from order to order.

2018 Proprietors' Reserve Chardonnay, Rutherford
This rich and powerful Chardonnay opens with a bouquet of white flowers, orange blossom, macadamia nut, ripe lemon, and clove. The silky and concentrated palate is brimming with flavors lemon, tangerine, clove, vanilla, butterscotch, and liquid flowers. Everything is held together with fresh acidity that crescendos on the persistent finish.