Aleteia Offer - Faith Collection Three Pack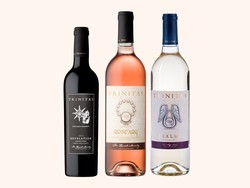 The Faith Collection - Three Pack
We invite you to partake in this special Aleteia offer from Trinitas Cellars, The Faith Collection - Three Pack.
Included in this offer:
2009 Psalms, Napa Valley
Our 2009 Psalms is a blend of 54% Semillon and 46% Sauvignon Blanc. It starts off with aromas of Meyer lemon and green apple. Flavors of pineapple, lemons, and limes immediately fill your mouth. The crisp acidity leaves your palate with a clean, refreshing finish.
2013 Revelation, Contra Costa
The 2013 Revelation is rich, the nose is juicy and smells like a basket of red fruit and fruit pie spices. Candied red apple covered in chocolate and caramel is a high note, followed by hints of blackberries, red licorice, and pomegranate. The Revelation is literally mouth coating, which contributes to the continually lingering cherry flavor of this wine. Cranberries are bright and juicy on the palate, along with ripe mission figs. The wine finishes with a beautiful combination of vanilla and blueberries to round out the palate. (375 ml.)
2016 Rose'ary, California
We're extremely excited about our 2016 release of rosè with it's day-glow pink hue it delivers a punch of bright fresh fruit flavors. Strawberry, watermelon rind, and bright fresh herbs follow-through the palate to a soft round finish. With crisp and clean acidity this wine will hold up to your favorite summertime salad, spicy grilled sausages, or fresh Wild Salmon but is just as good on the back porch, sitting in the pool, after cutting the grass, sitting on the beach, lounging in the hammock, cruising on the boat, on a camping trip … you get the idea!
**Your offer includes temperature controlled shipping**
---

Additional Aleteia Offer:
Cabernet Francis Three Pack
►CLICK HERE