A's vs Yankees in Connie Mack Club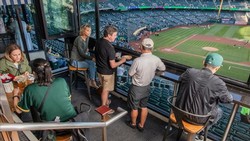 *Wine Society members must log in to receive their discounted price.
Join us to cheer on the Oakland A's as they take on the New York Yankees! Before the first pitch is thrown, guests will enjoy a Trinitas Cellars party full of great wine, small bites, and friendly conversation. After we've savored all the goodness, we'll sit back and enjoy the game! Here are the details:
Sunday, April 12th, 2020
Pregame party begins at 11:00AM
Game Starts at 1:00 PM
Connie Mack Club
7000 Coliseum Way, Oakland, CA 94621
Click here to see a map!
Oakland Athletics vs. New York Yankees
Tickets are just $125 for each guest, and $100 per ticket for Wine Society members*. We only have 40 spots available for this fun outing. So claim your tickets before they are gone! You won't want to miss this – no if, ands, or bunts.