2018 Busch Bubbles, Dark Chocolate Dipped
Carneros, Napa Valley, Estate, Family Collection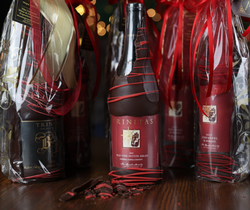 The 2018 Busch Bubbles is a wonderfully elegant, energetic, and complex Blanc De Noir that beautifully expresses the cool climate of Carneros. It is made entirely from Pinot Noir grown at our O'Neill Estate Vineyard. It opens with a lovely bouquet of cherry blossom, brioche, oyster shells, and lime pith aromas. The complex and expressive palate fans out into layers of cranberry, lemon zest, sea salt, and hibiscus flavors that are emphatically accentuated by a lively core of mouthwatering acidity. Everything is seamlessly woven together with decadent bubbles and trails off into a delightfully refreshing and persistent finish of lime pith. This is a charming and delectable sparkling wine that expresses the character of Carneros and grace of Pinot Noir. We hope you find it as irresistible as we do!
Trinitas first released the Busch Bubbles in 2014. The wine was dedicated to welcoming Betsy O'Neill into the family as Betsy Busch when she and Garrett were married on June 14th, 2014. It quickly became a favorite among our Wine Society members, so much so, that we felt compelled to release new vintages. We missed it too!
The 2018 vintage of Busch Bubbles is 100% Pinot Noir Estate fruit from Betsy's parents vineyard, the O'Neill Vineyard. This site is nestled in the hills of the Carneros appellation. It sits between 50 and 100 feet above seal level and is regularly shaded by the marine layer from San Francisco Bay. Its coastal influence allows us to craft a beautiful, elegant and balanced brut that does not sacrifice on flavor. It is the perfect bottle for celebrating life's blessings. Cheers!